Better Ed's most recent postcards have people talking. Here they are below:
Yesterday, we appeared on Up and At 'Em (News Talk AM 1130) to discuss Minneapolis Public Schools' history of failure with black students. In case you missed it, here's a link to the segment (jump to the 24-minute mark to hear Better Ed's Daniel Lattier and me, Devin Foley).
On Saturday (3/14), I will be on AM 1280 at 1:30 p.m. with Mitch Berg and then on Sunday (3/15) at 2:00 p.m. with Brad Carlson on AM 1280 as well to discuss the progress we're making on galvanizing the public towards change in the government school system. You can listen on your radio, or on the Internet by clicking here.
Unfortunately, not everyone is pleased with our efforts to draw attention to the unacceptable plight of black students in both Minneapolis and St. Paul public schools.
Nekima Levy-Pounds, a civil rights activist and professor of law at the University of St. Thomas, has instead reserved her criticism for the hashtag we used on the front of the postcard. You can read about the controversy in yesterday's article from MyFox9 here and in the image below:

And, finally, here is a very mature response from local political commentator Walter Hudson. As he says,
"I am taking a risk in speaking out ... One thing that Pounds and her associates have demonstrated a willingness and a proficiency at doing is agitating and disrupting peoples lives. But the reason I am ... addressing this is precisely because it's risky. Because as I sat around and thought about it, I realized that my speech was actually being chilled by fear of how Levy-Pounds and her associates would respond. And that in and of itself is reason enough to speak. You don't let yourself be bullied, you don't let people tell you what you can and cannot say."
And how right he is: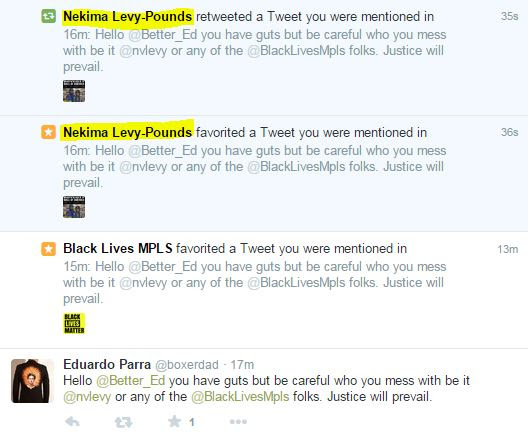 We do not take threats lightly nor will we be bullied. And we will continue to care about black lives. If you'd like to help us continue to do our work, please consider supporting us here. $25, $50, or even $100 will help. And don't worry, you'll be anonymous. ;)